We deliver!
When you purchase one of our products, our Sales Team will contact you to schedule a date for delivery. If your shed was purchased from our store inventory, we will contact you to schedule a delivery date within four to six weeks. For custom orders, we will give you a target date when the shed will be ready and then contact you to schedule a delivery date once your shed is built and delivered to our facility. If you cannot be home when your shed is scheduled to be delivered, we ask that you mark the location where your shed is to be placed.
Selecting the right location for a shed can be difficult. If you're uncertain about whether or not a certain shed size will fit in your yard or place of business, please call our sales team at (804) 894-8095 or (804) 894-2985 and we can plan a visit to your location to help you pick the best location and size.
We recommend a level area for placing the shed, but it's not required. We will make sure the shed is properly set up and level.
Once your shed or other product is placed in your designated location and leveled, our delivery team checks the doors and windows to make sure they work properly. The standard set up includes placing up to two levels of block and shims under the shed.
Our delivery team will need an area wide and tall enough for the shed to pass through when accessing the location to place the shed. Watch this short video on how we use the shed mover to place the shed in the right location.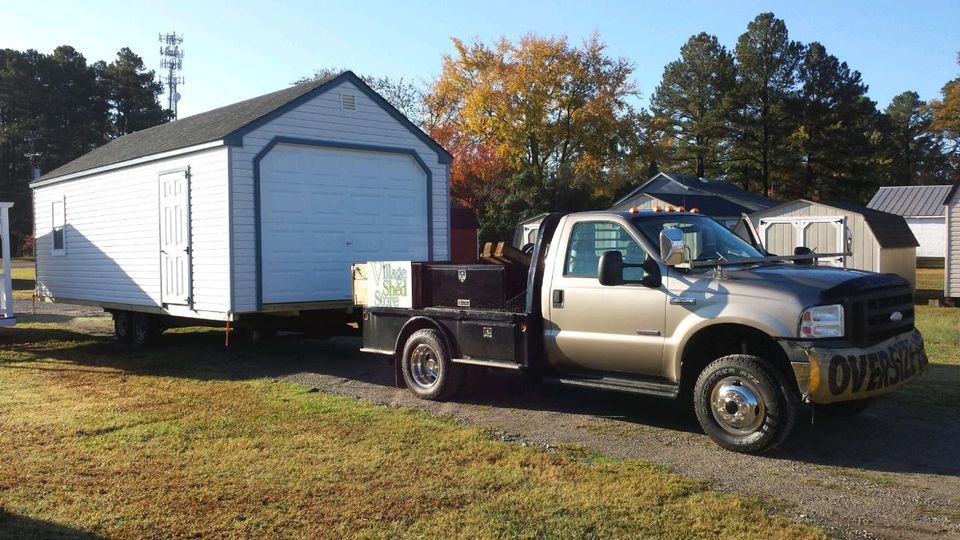 Standard Delivery and Set Up
We deliver your shed at no additional cost within a 50-mile radius. A special shed mover is used to place the shed in a location you select. The standard set up includes one hour of labor and up to two levels of block at each load point to properly level the shed. Sites with more than an 18" grade may require special site preparation and block which is available at additional cost. Each additional hour of labor required for the setup is $65/hour and the price for additional block is $6.00/block. Sheds over 256 square feet may require additional footings per the local county building code.
Deliveries that exceed the 50 mile radius, are charged $4.00 for each mile driven outside the 50 miles radius.
The customer is responsible for any requirements made by neighborhood associations that extend beyond the standard block set up provided by Village Shed Store. Request for additional setup should be made in advance so that driver is equipped with the necessary materials.
Shed Moves
Village Shed Store can move your shed even if it was purchased from a different builder. As long as the shed is constructed with skids and is in good condition, we can move your shed. Our minimum fee is $300. The actual price is based on the size of the shed, the condition of the skids, and the distance of the move. The base fee includes up to 80 driven miles from our store location to all points of delivery and back to the store. An additional fee of $4.00 per mile for each driven mile over the initial allocated 80 miles. This amount is calculated with service is secured. Please contact our store at (804) 894-8095 to get your quote today.
Our sales team will need pictures of the entire shed and the area around the shed to assess the condition of the shed and the current location and new location where the shed is to be delivered in order to provide you with a quote.
Our delivery team will use professional care in loading your empty shed using our shed moving equipment. It is important to empty the shed and clear any debris and brush away from the gable ends of the shed to avoid any additional fees. At the new location, our delivery team will set up and level your shed with the existing block from the original shed location. If additional blocks are required to level the shed at the new location, there will be an additional fee of $6.00 per block. The price for the shed move includes one hour of labor excluding driving miles. Any additional hour of labor required to complete the load and set up is $65 per labor hour. Village Shed Store is not responsible for any damage to your shed or property as a result of moving and setting up your shed.